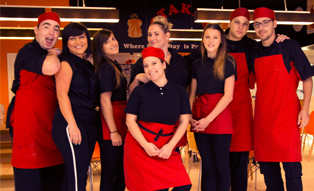 The STAKKS Team
Our TEAM
Once upon a time a group of pancake lovers decided to get together and create the highest STAKK in Southampton.
View Our Team
The Pancake House
STAKKS
Phone: 023 8178 3660
Address: Marlands shopping centre: upper level, SO14 7SJ Southampton
More About Us
The Reservation

Dining Room
The dining room is bright&fun, where all our guests can relax and enjoy watching our cooks flipping the finest pancakes in town.
Make A Reservation »
OPENING HOURS
Monday/8:30am-5:30pm Tuesday/8:30am-5:30pm  Wednesday/8:30am-5:30pm Thursday/8:30am-7:30pm  Friday/8:30am-6pm Saturday/8:30am-6:00pm Sunday/10:30am-5:00pm
STAKKS Menu
Every day is Pancake day !
Got a Birthday or an Event to celebrate? Maybe you just need an excuse to have Fun!
Book a STAKKS PARTY
Come and celebrate your Birthday/Event in style at STAKKS and eat for FREE. Create your own STAKK • Watch our cooks flip your pancakes
Decorate your unique STAKK • Enjoy your pancakes, Have lots of fun • *Birthday person/Event organiser eat for FREE
This fantastic offer is available Sunday to Friday every week. If your Birthday/Event celebration falls on a Saturday, the FREE offer can be taken 2 days before or after.
– Terms and Conditions –
Booking is essential and excludes Saturdays. Proof of date of birth/event details is required.Minimum booking is for 8 people. Cannot be used in conjunction with any other offer or promotion.
To find out more or book please ask Anna or Amy on 02381 783660
.